Neuropsychiatry Franchise Company in Gujarat- Neuracle Lifesciences the leading pharma franchise neuropsychiatric company focused on neurologic, psychiatric, endocrine, mental disorder related diseases. We, Neuracle Lifesciences is a global neuropsychiatry specialty pharmaceutical company that is focused on acquiring psychiatric medicines across a wide range of therapeutic areas in Gujarat marketplace. Our Neuropsychiatry Franchise Company in Gujarat is committed to providing neuropsychiatric medicines, in a very responsible manner, which helps in enhancing the lives of mental disorder patients.
We, Neuracle Lifesciences is the well-known neuropsychiatry PCD pharma company in Gujarat for our wide quality range of neuro medicines. Our pharma franchise company is GMP and WHO certified. We the leading Neuropsychiatry Franchise Company in Gujarat is on the mission to provide a variety of highest quality neuropsychiatric products to our customers and pharma franchise partners at very fair market prices along with superior service. Our pharma company of Gujarat will keep pursuing mission by improving our facilities, technology, and products continuously.
Neuracle Lifesciences counts in the top 10 Neuropsychiatry companies in India. Our purpose is to improve the well being of society. Therefore we always welcome the medical experts and professionals to become our neuropsychiatrist pharma franchise business partners. This is the best pathway by which we are able to reach in every corner of Gujarat and India. Our company offers the monopoly-based PCD pharma in neuro psychiatric range along with many benefits and rewards. This helps our pharma franchise associates to establish well in the pharma market.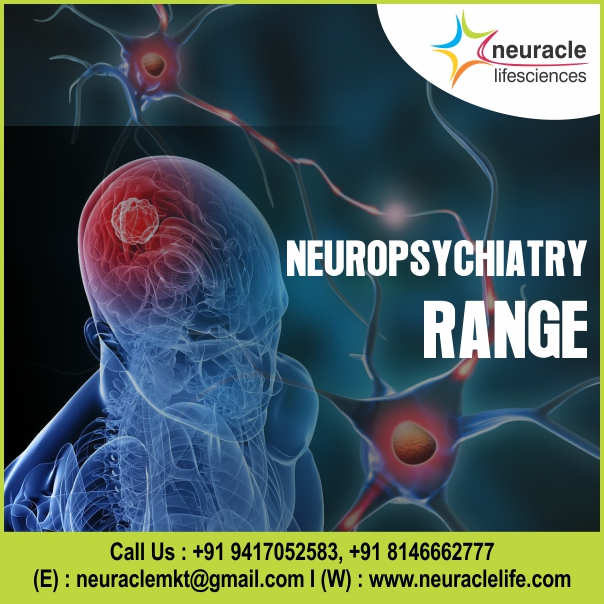 If you are looking forward or planning to begin your business in the pharma sector, then you are at right place. Join with Neuracle Lifesciences and feel the best experience of the pharma franchise business. To know more regarding the franchise opportunity and other business-related queries contact us through our registered number +91-9417052583, 8146662777. You can share your views, queries, and feedback on our official email address neuraclemkt@gmail.com.
The Demand Graph of Neuropsychiatry Medicine is at Peak
The need and demand for Neuropsychiatry drug range are increasing day by day in every state of India mostly there is heavy demand in Gujarat, Maharashtra, Delhi, Andra Pradesh, Assam. The psychological factors like severe psychological trauma such as emotional or physical or some important early loss like loss of a parent or loss in business, society neglection lead to Depression, ADHD, Schizophrenia, Bipolar Disorder or Anxiety/Panic Disorder are some reasons behind the increase in the demand for neuropsychiatric medicine in the marketplace.
Depression: Gujarat's four major cities lead to depression cases. While the same may be due to better access to health and more awareness in urban areas, what is interesting is that even places like Jamnagar and Bhavnagar report such cases in high numbers as well. Ahmedabad, Rajkot, Vadodara, Surat, Jamnagar, and Bhavnagar reported more cases in all. According to the data, Rajkot saw the highest increase in the number of cases in percentage terms recording an increase of 113.5 percent among the top six districts.
Attention Deficit Hyperactivity Disorder (ADHD): There has been a growing number of children across Gujarat showing behavioral problems. The number of children with signs of autism, Attention Deficit Hyperactivity Disorder (ADHD) and similar diseases is increasing, up by about 10% to 15%. Much of it could be due to increased awareness as parents were previously unaware of such issues while they are more likely to keep an eye today.
There is many psychiatry products franchise company in India but they are not able to complete the heavy demand for the Neuropsychiatry medicine range. Therefore we the leading Neuropsychiatry Franchise Company in Gujarat has taken the responsibility to eliminate this chronic mental disorder disease from Gujarat and India. As per the increase in the demand, there is also a great scope of Neuropsychiatry PCD Pharma franchise in Gujarat.
'Neuracle Lifesciences' – The Top PCD Pharma Company in Gujarat
Our company, Neuracle Lifesciences has been a proud neuropsychiatric franchise provider throughout India. Many of our customer base across India have warmly appreciated our drugs and medicines. We invite wholesalers, distributors, agents, medical representatives, pharmacists, etc. for neuropsychiatry drugs franchise business. Those who are looking for the best PCD and pharma franchise deals in medicines for neuropsychiatry range can benefit from our business dealings in Gujarat India. The following are the advantages you will experience in joining with popular Neuropsychiatry Franchise Company in Gujarat.
Units and plants certified by GMP and WHO.
The latest technology from ALU-ALU and blister has been used.
We took good care of the hygiene of each room, especially our units.
Our company provides medicines and drugs approved by DCGI and FDA for neuropsychiatry.
Warehousing systems have been integrated and the transport system has been perfectly linked.
Quality Based Gujarat's Neuropsychiatry Franchise Company
Our goal is to ensure that regulators, health care providers, and patients continuously monitor and understand the benefits and risks of medication. Neuracle Lifesciences maintains a pharmaceutical care system that collects information about each product's lifecycle.
The products enter the final stages of the manufacturing process after quality control–packaging, labeling, and distribution.
For good manufacturing practice, the entire production process is subject to continuous quality assurance in accordance with DCGI standards.
Partner with Best Neuropsychiatry Franchise Company in Gujarat
At Neuracle Lifesciences, we are constantly looking forward to expanding our network across the country. For sole marketing and distribution rights, pharmaceutical professionals who are looking for business opportunities are welcome. Your search for the top Neuropsychiatry Franchise Company ends here. Obtain exclusive rights of monopoly/distribution and all other facilities for good business growth from our end for the Gandhinagar, Tapi, Kheda, Surat, Rajkot and other all major districts of Gujarat. Be your own boss and start your own pharma business in Gujarat. Here are the benefits that we offer to our Gujarat pharma franchise partners.
Monopoly rights.
Guaranteed fast delivery.
Free promotional tools and marketing strategies.
For better growth, we often release new opportunities in neuropsychiatric medicines.
Genuine PCD pharma franchise deals for brain-related medications throughout India.
Contact Us
Name- Neuracle Lifesciences
Address- SCF-406, Second Floor, Motor Market Manimajra, Chandigarh
Phone- +91 9417052583, 8146662777
Email- neuraclemkt@gmail.com