Neuropsychiatry Franchise Company in Uttar Pradesh- Neuracle Lifesciences is India's leading franchise for neuropsychiatry. Our Uttar Pradesh company is ISO, GMP and WHO certified. We are committed to providing genuine pharmaceutical franchise opportunities for neuropsychiatric medicines, drugs, and products. PAN India has a wide demand for neuropsychiatric drugs. The medicines are useful in treating a wide range of disorders related to the brain and nerve. Neuracle Lifesciences is a popular Neuropsychiatry Franchise Company in Uttar Pradesh, known for affordable pharmaceutical franchise deals for neuropsychiatric medicines.
The neurology range is the medicine branch that deals closely with a variety of nervous system disorders. All medicines included in this particular category are used for the diagnosis and treatment of all disease categories and include central and peripheral nervous systems. Our Best Neuropsychiatry Franchise Company in Uttar Pradesh also has a variety of activities Being the leading Uttar Pradesh manufacturer and supplier for Neuropsychiatry medicine. Neuracle Lifesciences are on the mission to deliver the best quality Neuropsychiatric drugs in every district of Uttar Pradesh.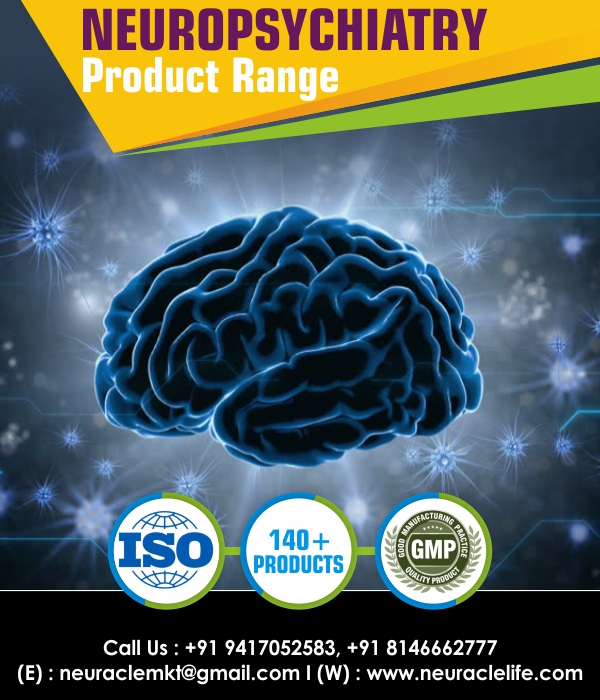 The scope in the pharma franchise business for Neuro medicines is very high in the marketplace of India and Uttar Pradesh along with many rewards and great revenue returns. So to know more regarding the PCD Pharma Franchise in Uttar Pradesh, you can contact us at +91-9417052583, +91 8146662777 or even write to us at neuraclemkt@gmail.com. We, Neuracle Lifesciences are always open for the newcomers and experienced professionals to be the part of Best Pharma Franchise in Uttar Pradesh.
Best Neuro Drugs Quality Promise with Uttar Pradesh
Drug quality and safety are paramount, although our product range is manufactured and packaged. Surveillance begins from the initial stage to ensure the best quality of medicines. Our quality assurance team strictly controls every process right from the testing facilities to the packaging of medicines.
We here in our PCD neuropsychiatric division ensure and test the quality of our medicines throughout the shelf life of our products. We meet the highest standards and a wide range of therapeutic areas with our product range. We, the leading pharma franchise neuropsychiatric company are constantly advancing and constantly offering a new and innovative range of drugs.
Popular PCD Pharma Franchise for Neuropsychiatric
We value our partners and offer them the best business opportunity for PCD Pharma Franchise in Uttar Pradesh. Since the company, therefore, believes in mutual benefits, it offers its associates good support to grow together with the company. We, Neuracle Lifesciences are currently working with associates at the moment and are looking for more.
Our Neuropsychiatry Franchise Company in Uttar Pradesh offers all its partners the best facilities and benefits and ensures that the excellent business deals with the good profit margin are delivered. We Neuro PCD Company offer the monopoly pharma franchise in Lucknow, India.
'Neuracle' The Leading Neuro Pharma Franchise of U.P.
We, Neuracle Lifesciences aim to reduce the burden on the pharmaceutical industry by introducing ourselves as the reliable Neuropsychiatry Pharma Franchise Company in Uttar Pradesh. That's why we offer the startup company's numbers an excellent business opportunity. Benefits of joining hands with Neuracle Lifesciences:
Our company can give other pharmaceutical companies a competition.
Own production units that help us deliver the product range free of defects.
We have a good basis and a monopoly right to minimize start-up competition.
Use excellent marketing strategies and provide our associates with reliable promotional kits.
Join the Best Neuropsychiatry Franchise in Uttar Pradesh
We provide them with the best facilities and support to support our Uttar Pradesh PCD pharma franchise partners. Here are some of the benefits mentioned below that we offer our partners:
Unique monopoly rights: We offer the best distribution and monopoly rights in order to be the best in your territory and to work independently. This will help to reduce the completion of the sale for our pharmaceutical franchise partners.
Quality packaging and timely delivery-We use the best quality packaging material for our products to ensure the long shelf life and the best quality of our medicines. In addition, our products are executed for delivery with 24 hours of order.
We Have the Most Reliable Logistics of Uttar Pradesh
Our Logistics partners is a combination of proven logistics expertise, global reach and advanced real-time technology to tackle your on-time delivery challenges. Our Logistics Partners of Uttar Pradesh, India assist clients and provide the best logistics service in every region of Uttar Pradesh. They provide the proper environment and packaging to the medication. So as to deliver the in medication in orginal form only.
Our logistics cover every district of Uttar Pradesh Agra, Firozabad, Mainpuri, Mathura, Aligarh, Etah, Hathras, Kasganj, Allahabad. We really take care of our associates all around India and try to deliver every medication on time.
Name- Neuracle Lifesciences
Address- SCF-406, Second Floor, Motor Market Manimajra, Chandigarh
Phone- +91 9417052583, 8146662777
Email- neuraclemkt@gmail.com