Neuropsychiatry Franchise Company in Karnataka- Search for the best Neuro PCD Company is over now. Neuracle Lifesciences the leading neuropsychiatric medicine company in India, is now present in the capital of Karnataka, Bengaluru. South India is famous for the hub of Neuro medicine Range. But still how there is quite need and heavy demand for mental illness medicine in Karnataka. Therefore to complete this demand, we Neuracle Lifesciences introduce our Neuropsychiatry Franchise Company in Karnataka, India.
In our company's PCD Neuro Psychiatric division every medication prepares under the guidance of expert medical professionals. They keep their strict eyes over the complete formulation process of Neuropsychiatric medicine in our manufacturing facility at Karnataka Bangalore. We, Neuracle Lifesciences is a family of highly experienced quality analysts, supervisors, doctors and talent co-employees, they all work only with one motive to keep our name always enlight in the list of leading Neuropsychiatry Franchise Company in Karnataka.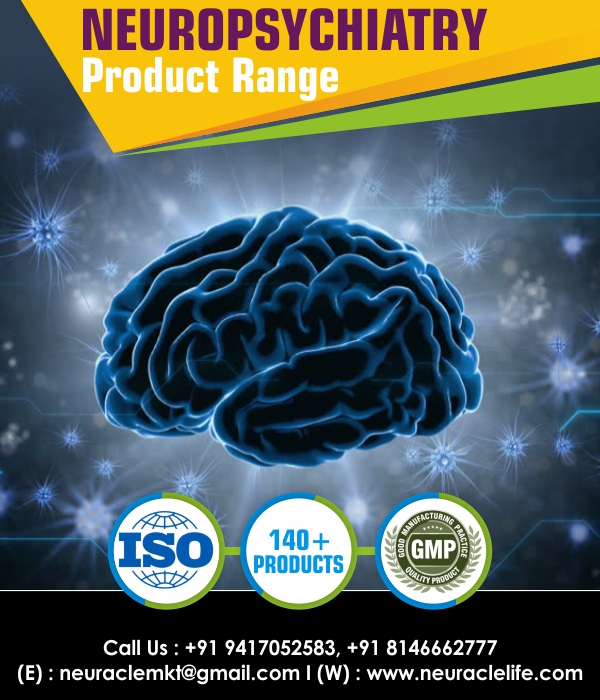 Neuracle Lifesciences is a popular manufacturer and supplier of neuropsychiatric drugs in India. We found the best method by which we can easily able to deliver our psychiatric medicine in every region of Karnataka and India. Meanwhile, it also provides someone a business opportunity. Therefore we have introduced a PCD Pharma Franchise for Neuropsychiatry Medicine range in Karnataka and India. This particular field of medication has a wide scope and there is always a heavy demand for neuro medicine in India. So to know more regarding the franchise opportunities you can contact Neuracle Lifesciences at +91 9417052583, 8146662777 or drop us an email at neuraclemkt@gmail.com.
We Go Further to Bring Better Lives in Karnataka
We, Neuracle Lifesciences is a leading name in Neuropsychiatry Medicine. Our company offers quality pharmaceutical services. These include neuropsychiatric medicine third-party manufacturing, PCD, and neuropsychiatry pharma franchise. You can be sure of our drugs for depression of the best quality. The best technique and technology are used to produce the medicines.
Neuracle Lifesciences has GMP and WHO certified units for production, processing and outsourcing purposes. According to Schedule M, you can enjoy excise duty-free production.
DCGI approves our neuro medicines known as neuropsychiatric medicines. We always ensure that you receive the best quality medicines.
Our company is full of highly qualified and qualified worldwide experts. With the perfection of good antidepressant formulations, you can enjoy the quality range.
Filling Lives in Meds at Karnataka's R&D Department
We, Neuracle Lifesciences delivers the best range of drugs with the high quality. Our company's products pass a number of quality tests. We ensure that patents get from our end the best quality range of drugs. We have the quality assurance team and state-of-the-art production units in Karnataka to ensure this. For production, we use the best quality raw material and provide high-quality packaging for long shelf life. Our Neuropsychiatry Franchise Company in Karnataka has a wide range of neuro drugs and other formulations. It covers different categories of products such as:
Drops
Sprays
Syrups
Tablets
Ointments
Dry Syrups
Injectables
Solid capsules
Softgel capsules
The opportunity for Neuro Pharma Franchise in Karnataka
Bangalore is its capital, Karnataka has good health and care facilities. There are many good hospitals and clinics in Bangalore itself. The PCD Pharma Franchise in Karnataka has a good scope because the demand for quality pharmaceuticals in the state is growing. The government also supports this sector and opens health centers and hospitals.
As the population increases, the demand for products increases and people only want quality products at affordable prices. Therefore, having a PCD franchise does not currently bring growth, but it also has bright future aspects.
Even the government encourages this sector by allowing Foreign Direct Investment to grow more. Innovexia invites our partners for PCD Pharma Franchise in Karnataka to be sole distributors, pharmaceutical distributors, medical representatives, and stakeholders.
Karnataka's First Choice for Neuro Drugs Range
We, Neuracle Lifesciences are popular neuropsychiatrist pharma franchise company in Karnataka because of our flawless quality made using best quality ingredients. Our company name is mentioned in best neuropsychiatric company list in India because of our proficient in delivering great quality at genuine investment. When it comes to pharmaceutical franchise and drugs, we are quality-centric and professional. We have used the best quality extracts, an intelligence technique to provide you with psychiatric medicines of the best quality.
We give everyone monopoly rights.
Every order is guaranteed fast delivery.
There are tools for promotion and marketing strategies.
For better growth opportunities, we often release new neuropsychiatric medicines.
We guarantee genuine PCD pharmaceutical franchise deals for psychiatric medicine in India.
Our Logistics Partners are the Best Logistics in Karnataka
Being the leading Pharma Franchise Company of India Karnataka, we want that our every medication deliver on time to our partners, patients and to our valued pharma franchise associates in Tumakuru, Yadgir, Chamarajanagar, Chikkamagaluru, Ballari, Bidar, Kalaburagi, Koppal, Raichur, Dakshina Kannada.
Therefore we are working with the best logistics team of Karnataka. They are specialized in delivering all types of medications on time and in proper packing manner. Our logistics team covers all the cities of Karnataka Bagalkot, Belagavi, Vijayapura, Dharwad, Gadag, Haveri, Uttara Kannada, Bengaluru Urban, Bengaluru Rural, Ramanagara, Chikkaballapur, Chitradurga, Davanagere, Kolar, Shivamogga, Hassan, Kodagu, Mandya, Mysuru, Udupi.
Contact Us
Name- Neuracle Lifesciences
Address- SCF-406, Second Floor, Motor Market Manimajra, Chandigarh
Phone- +91 9417052583, 8146662777
Email- neuraclemkt@gmail.com