Neuropsychiatry Pharma Franchise in Madhya Pradesh– With Neuro diseases and mental disorders at an all-time high at the moment, people are looking for the right Pharma Company to provide them a supreme range of Neuropsychiatry Medications. And, due to the hike in sales of these medicines, people are now looking for a PCD Franchise Company that has a dedicated line for Neuro Medicines. Hence, today the pioneering Company, Neuracle Lifesciences has brought an opportunity of their Neuropsychiatry Pharma Franchise in Madhya Pradesh.
As the heart of India, the state represents our nation as a whole. And, this is a state that could benefit a lot from this great venture. Therefore, our mission to have a branch in the state is going to be a successful one. With the whole nation suffering from an array of medical problems, Madhya Pradesh is the state making great medical progress. Therefore, there is a lot of scope for the medicines range that our Neuropsychiatry Pharma Franchise in Madhya Pradesh will present.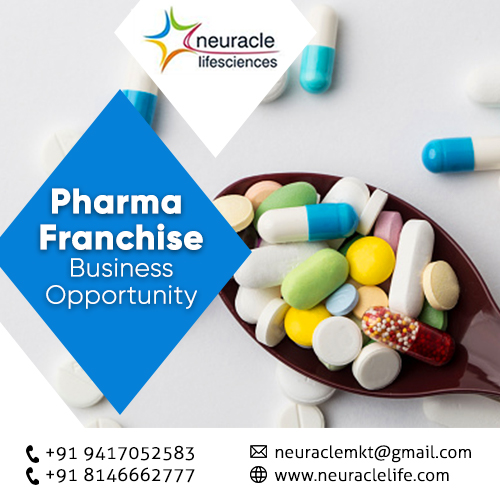 Hence, as the best PCD Company for Neuro Range, we are inviting all Pharma Professionals and entrepreneurs to set with us to partake in this great business opportunity. Do reach out to us to grab this amazing opportunity. To contact us call us on the numbers +91 9417052583, +91 8146662777, or you may write to us on the address neuraclemkt@gmail.com.
Why own a Neuropsychiatry Pharma Franchise in Madhya Pradesh?
The Neuropsychiatry PCD Business has flourished a lot over the years. This is because as the demand for Neuro medicines increases along with the market size for these medicines, so does the interest of people in this branch of medicines. This is why people are investing a lot in this line of business. Here are some reasons as to why there is a lot of scope in the Neuropsychiatry PCD Pharma Business:
The Country's market size increases with the increase in demand for Neuro medicines.
Our country has the highest number of suicides recorded in people of age under 44.
Also, there the market size and the scope for this field increases with the awareness of Neuropsychiatry disorders.
Globally, it is known that the third most common cause of death in people between the age of 15 to 19, is suicide.
Also, India is said to be the country at the top in terms of the number of people battling certain mental disorders like depression.
Hence, there is a lot of scope especially in India for a Neuropsychiatry Pharma Franchise. And, narrowing down the location of Madhya Pradesh, a franchise of our company in this region will be very helpful to the community.
Wide Range of Neuro Medicines for Franchise by Neuracle Lifesciences
Here at Neuracle Lifesciences, we are a Pharma Company that deals exclusively with a well-established line of Neuropsychiatry medicines that work effectively. Our medicines range goes through the extensive testing round before they are presented out in the market. They have a lot of features such as:
Purity
Quality
Effectiveness
Reliability
Quick action
Almost no side effects
Airtight and leakage-free Packaging.
Also, we produce medicines for a huge range of products in the Neuropsychiatry Line. Therefore, we produce helpful medicines to battle:
Anxiety
Panic Attacks
Depression
Bipolar disorder
Obsessive-Compulsive Disorder
Manic Depression
Seizures
Epilepsy
Nausea
Meniere's Disease, etc.
Hence, here at Neuracle Lifesciences, we have a large variety of high-quality medicines to produce the best Neuro medications.
Collaborate with Us for Incentives and Other Exciting Benefits
The PCD Pharma Franchise business is highly profitable and also it is a business that offers high revenue returns. In fact, this is one business where you get to be the boss at your business and get the full support of the Pharma Company. Thus, here at Neuracle Lifesciences, we will be providing you a lot of benefits should you choose to join us for a Neuropsychiatry Pharma Franchise in Madhya Pradesh.
Monopoly Rights: We will be providing the lucky individuals a monopoly in the market in areas that generate high revenue returns. This is done to grant you full permission to sell and deal with our products. Also, this is done to reduce the competition you might face in the Market.
Promotional Inputs: We will also strive to provide you publicity and marketing tools. We will be providing you brand merchandise for the promotions of our line of Neuropsychiatry Medicines for Pharma Franchise. We will be providing calendars, pens, notepads, etc.
Locations for Neuropsychiatry Pharma PCD Franchise in Madhya Pradesh
Our neuro Franchise Company in Madhya Pradesh is going to be very beneficial for the people of the area. And, this will be an opportunity for individuals to deal with our highest quality medicines range that is available in pocket-friendly prices. Therefore, here are some locations in which we would be broadcasting this opportunity.
Bhopal
Chambal
Gwalior
Indore
Jabalpur
Rewa
Sagar
Thus, get in touch with us and lend a hand to mental Healthcare of India by joining us as a Franchise Member with our Neuro Pharma Franchise Opportunity.
Contact Us
Name– Neuracle Lifesciences
Address– SCF-406, Second Floor, Motor Market Manimajra, Chandigarh
Phone– +91 9417052583, +91 8146662777, 0172-4666306
Email– neuraclelifeseo@gmail.com