Neuropsychiatry PCD Franchise in Jammu and Kashmir– The province featured beautiful landscapes and mountains covered by heavy greenery. However, for half of the decades, many people of this state are facing some major mental disorders who are residing in populated cities. We at Neuracle Lifesciences always come ahead to curb the emerging neuro issues in society by providing the best quality neuro products. Currently, our company is offering an effective neuro drug range as well as a business opportunity to get Neuropsychiatry PCD Franchise in Jammu and Kashmir.
Neuracle Lifesciences is an ISO certified company and especially cares about its clients. That is why we are providing Neuropsychiatry PCD Franchise in Jammu and Kashmir on a monopoly basis so that our clients do not have to face any kind of competition in the market. We not only provide a monopoly based franchise and superior quality products but also support the associates in each manner. Our customer care representatives help them and solve their queries and our expert team assist them while decision making.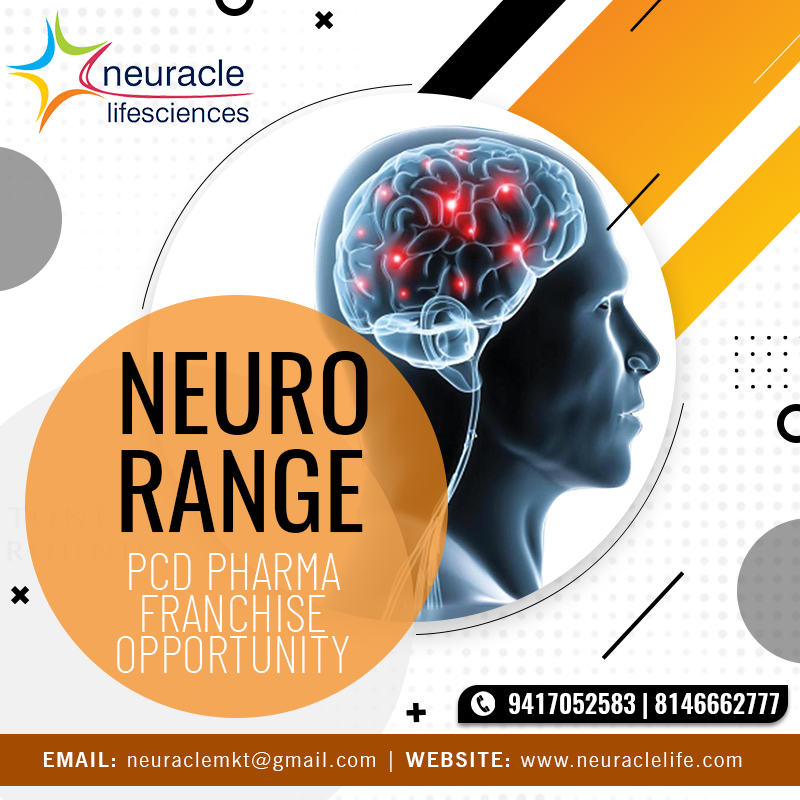 We welcome our new clients to join our hand and contribute to society by providing them with the best quality neuro product through Neuropsychiatry Franchise Business in Jammu and Kashmir. Call us at +91 9417052583, +91 8146662777. You can write an email to us at neuraclemkt@gmail.com.
Why Consider Neuracle Lifesciences For Neuro Franchise Business?
Started journey in 2016, Neuracle Life Sciences has set a big example of providing the best quality medicines. We work with a customer-centric approach to reach each corner of the nation. Since we established, we have been running our organisation only on one motive, that is to serve mankind with effective drug range so that they can recommend our product to others after curing their own issue. Our company is backed by a professional team which are highly skilled in the pharma line and specialist in neuropsychiatry.
The company has an ISO certification and manufactures the product by following the rules and regulations set by WHO and GMP.
Our manufacturing plants are enabled with hi-tech machinery which is able to produce huge amounts of products in a span of time.
Our company believes in transparency between us and our clients, which leads to strong bonding with them.
Units are situated in duty-free areas that automatically reduces the total cost of the product.
The transportation department delivers the products in a given time which makes us punctual.
A Wide Range Of Effective Neuro Formulations
Our all products are passed through several testings so that we can build trust in front of our customers in terms of genuine medicines. At each stage, our drug controller manages the compositions in the production lane. We have a wide range of formulations for neuro issues which are WHO and GMP certified. Even all our products are approved by DCGI and FSSAI as well. We never compromise with the quality of the medicine because we think it is our main marketing tool. After deep research on several emerging mental disorders, we have come with these below-mentioned products.
A vast range of neuro compositions
Doxofylline 400 mg + Montelukast 10 mg SR
Amoxycillin 500 mg + Clavulanic Acid 125 mg
Bupropion 300 mg SR
Clonidine 100 mcg
Piracetam 400 mg
Cefixime 200 mg
Lactic Acid Bacillus
CefiXime 200 mg
Ofloxacin 200 mg
Donepezil 5 mg
Venlafaxine 37.Smg
Deflazacort 6 mg
Tramadol 37.5 mg
Paracetamol 325 mg
Dluoxetine 40 mg
Montelukast 10 mg + Desloratadine 5 mg
Divalproex Sodium Extended Release 500 mg
Sodium Valproate 133 mg
Valproic Acid 87 mg
Levetiracetam 250 mg
Sodium Valproate 333 mg
Levetiracetam 500 mg
Etoricoxib 60 mg + Thiocolchicoside 4 mg
Febuxostat 80 mg
Flupirtine SR 400 mg
Flunarizine 10 mg
Gabapentin 400 mg + Nortriptyline 10 mg
Pioglitazone 15 mg + Glimepiride 2 mg +
Metformin 500 mg Bilayered Tab in SR
Biotin 10 mg + Calcium Pantothenate 100 mg + Acetylcysteine 50 mg
Zinc 22.5 mg
Betahistine 8 mg
Betahistine 16 mg
Cinnarizine 25 mg
Domperidone 15 mg
Ferrous Ascorbate 100 mg + Folic Acid 1.5 mg
Chlordiazepoxide 5 mg

What Type Of Advantages Are There After Collaborating With The Best Neuropsychiatry Company?
In today's scenario, the franchise business has become a spinal cord of the whole pharma market. It is the main reason behind the huge value of the market and day by day people are engaging with this business. Neuracle Lifesciences is also offering franchise business along with lucrative services. This business contains various advantages which are just like supporting elements for this business.
Some of the merits of getting a neuro franchise
The research team represents new formulation in front of our already associated clients so that they can keep themselves up to date in the market.
Visual aid contains all details about the product in a digital form as well as in manual form which we provide free of cost.
Promotional inputs are very helpful for marketing and for advertisement purposes that are company name labelled pen, notepad, pamphlet, visiting cards, chemist billing book and marketing beg.
It is very important that franchise should be based on monopoly rights so that there is less competition in the market. Neuracle Lifesciences is offering a monopoly based franchise.
Highlighted Areas And Scope For Business In Neuro Range In Jammu And Kashmir
The worldwide neuro industry worthed around 795.1 billion dollars in 2017 and after that, it inclined rapidly. On the other hand in the same year, the neuro market of India was valued at nearly US $5246 Million and asserted to touch 9000 million by 2025. With the rising demand of neuro products, Neuracle Lifesciences is offering their franchises for neuropsychiatry in different parts of Jammu and Kashmir. Our research team analysed the demand for neuro products in this region and came up with these cities which are highly required quality based products. Even these areas are connected to urban to rural areas which can fulfil the demand of all.
Some highlighted areas of Jammu and Kashmir
Doda
Jammu
Kathua
Kishtwar
Poonch
Rajouri
Ramban
Reasi
Samba
Udhampur
Collaborate with us to get high success in the pharma market by owning Neuropsychiatry PCD Franchise in Jammu and Kashmir. We ensure our clients we provide every kind of support for their higher growth in the market.
Contact us Today:
Name- Neuracle Lifesciences
Address- SCF-406, Second Floor, Motor Market Manimajra, Chandigarh
Phone- +91 9417052583, 8146662777
Email- neuraclemkt@gmail.com