Neuropsychiatry Franchise Company in Haryana – Neuracle Lifesciences has been engaging with curing different types of mental disorders such as depression, stress, bipolar, and brain tumor etc. The company is overcoming these issues by providing people with neuro drug range through Neuropsychiatry Franchise Company in Haryana. Being a top neuro franchise company and ISO certified we research emerging mental disorders and then after deep research, come with effective compositions. Because our main motive is to cure neuro issues from their root that is why we give more emphasis on the product's effectiveness.
Haryana is a state where around 2.90 crore people are residing and it is asserted that almost one-fourth of the population is suffering from minor to major neuro issues. Therefore, Neuracle Lifesciences, a Neuropsychiatry Franchise Company in Haryana has decided to offer franchise deals. We are offering this business opportunity with full monopoly rights and providing incentives on sales in order to support the client's business. In fact, we put every single effort to satisfy our client in each term whether it is providing the best quality products or giving lucrative services.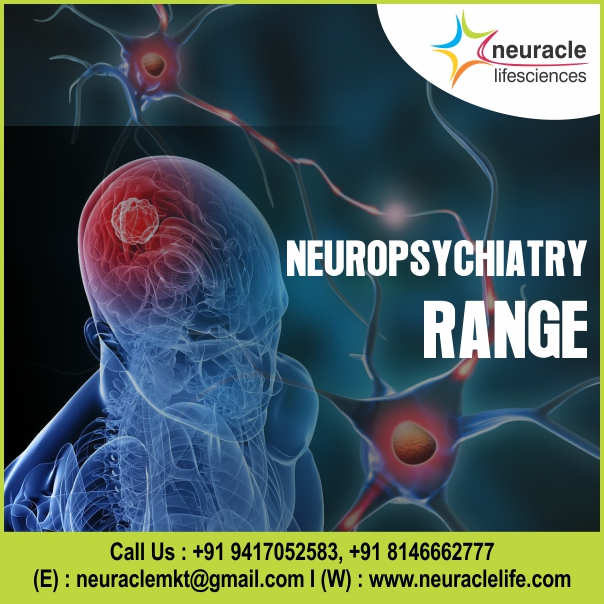 To join our venture and to get the great business opportunity by opening a Neuropsychiatry Franchise Company in Haryana call us at +91 9417052583, +91 8146662777. You can also drop us a message at this email address neuraclemkt@gmail.com.
Collaborate With The Best Neuropsychiatry Company For Franchise Business
With lots of dedication and hard work, Neuracle Lifesciences has been leaving a significant benchmark in the pharma market. We are always too ready to serve our nation, so luckily we got this amazing opportunity in 2016. But before that, we were researching several types of mental disorders which people are suffering from. Our products are one of the preferable choices among associates because of their effectiveness. Apart from this, our dedicated staff works very efficiently as they are highly qualified and hard-working. We never ever compromise with our product's quality because we have earned a reputable name in the neuropsychiatry industry.
Some more characteristics of Neuracle Lifesciences
The company has an ISO certification and works as per the guidelines of WHO and GMP.
We use the latest devices to manufacture the best quality neuro products and that equipment gets service monthly for better performance.
A warehouse facility is available where we store our most demanded products in the market.
People get attracted from our genuine and transparent deals which help us to make a strong market.
The research team brings new and innovative formulations to the market and that helps us to stay tuned in the market.
Wide Range Of Products Portfolio We Offer To Our Franchise Partners
Neuracle Lifesciences is a well-known company for dealing with the best quality neuro products. For ensuring quality, our products go through several types of research and we processed the manufacturing under effective supply chain management. The drug inspectors examine the compositions during production. They handle the formulations and maintain the quality. Further, our products get approved by DCGI and FSSAI which makes our product more reliable. We have every kind of neuro product at a very reasonable price so that every individual can afford them. Now we are going to mention some of our products from our immense portfolio.
Compositions in which we deal
Donepezil 5 mg
Venlafaxine 37.Smg
Deflazacort 6 mg
Tramadol 37.5 mg
Paracetamol 325 mg
Dluoxetine 40 mg
Montelukast 10 mg + Desloratadine 5 mg
Divalproex Sodium Extended Release 500 mg
Sodium Valproate 133 mg
Valproic Acid 87 mg
Levetiracetam 250 mg
Sodium Valproate 333 mg
Levetiracetam 500 mg
Etoricoxib 60 mg + Thiocolchicoside 4 mg
Febuxostat 80 mg
Flupirtine SR 400 mg
Flunarizine 10 mg
Gabapentin 400 mg + Nortriptyline 10 mg
Pioglitazone 15 mg + Glimepiride 2 mg +
Metformin 500 mg Bilayered Tab in SR
Biotin 10 mg + Calcium Pantothenate 100 mg + Acetylcysteine 50 mg
Doxofylline 400 mg + Montelukast 10 mg SR
Amoxycillin 500 mg + Clavulanic Acid 125 mg
Bupropion 300 mg SR
Clonidine 100 mcg
Piracetam 400 mg
Cefixime 200 mg
Lactic Acid Bacillus
CefiXime 200 mg
Ofloxacin 200 mg
Zinc 22.5 mg
Betahistine 8 mg
Betahistine 16 mg
Cinnarizine 25 mg
Domperidone 15 mg
Ferrous Ascorbate 100 mg + Folic Acid 1.5 mg
Chlordiazepoxide 5 mg
Collaborate With Us To Get Amazing Perks With Our Services
Before joining any business or associating with a company every individual seeks benefits for the well-being of their business. They search for that type of company that not only deals with the best quality products but also provides benefits along with services. Neuracle Lifesciences is a pioneering company that is offering fruitful benefits to clients for the betterment of their business. The company has been maintaining their goodwill because of excellent work by its associates who are spreading their genuine quality products in the market through their franchise business. We also have no stone unturned for providing them gains which we are going to explicate in the upcoming bullet points.
Visual-aid – We provide a visual aid that contains a full description of the product along with usage and benefits and attractive graphics.
Promotional inputs – The company is giving brand-labeled notepad, visiting cards, pamphlets, and marketing beg for advertisement purposes.
Incentives and bonus – Monthly incentive is received by our client on sales target even they receive the bonus and gifts on festivals.
Tax-free – The manufacturing plants are located in the duty-free zone which automatically makes the deals more affordable.
Monopoly Based Neuropsychiatry Franchise Offered By Neuracle Lifesciences
We do not want our clients to take any pressure or burden of sales or competition. That is why we are offering our neuropsychiatry franchise in different areas of Haryana to single clients. In other words, we do not deliver the same products and franchise to a second person. This is very beneficial for our client as it reduces the overall competition from the market. Furthermore, we have seen that there are many people in this province who are facing several kinds of neuro issues. We have researched different districts of Haryana on a ground level and we come with these below-mentioned districts which are vacant for the Neuropsychiatry franchise business.
Vacant areas for Neuro franchise business
Jhajjar
Jind
Kaithal
Karnal
Kurukshetra
Mahendragarh
Nuh
Palwal
Ambala
Bhiwani
Charkhi Dadri
Faridabad
Fatehabad
Gurugram
Hisar
Sirsa
Sonipat
Yamunanagar
If you are also interested to open an own neuro franchise business then associate with our Neuropsychiatry Franchise Company in Haryana.
Contact us Today
Name- Neuracle Lifesciences
Address- SCF-406, Second Floor, Motor Market Manimajra, Chandigarh
Phone- +91 9417052583, 8146662777
Email- neuraclemkt@gmail.com