Neuropsychiatry Franchise Company in Delhi- Neuropsychiatry is a field of medication which deals with mental illness due to the imbalance of the nervous system. With the increase in Neuropsychiatric disorders like Depression, Bipolar Disorder or Mania, Obsessive Compulsive Disorder in Delhi. The demand for Neuropsychiatry medicines are at the peak in all around New Delhi, India market. But unfortunately, there is a huge shortage of Neurology Product Manufacturers in India. Therefore Neuracle Lifesciences introduces Neuropsychiatry Franchise Company in Delhi. With the purpose of delivering the best Psychiatric Medication in India.
We, Neuracle Lifesciences believes in flawless quality. Therefore in our Neuropsychiatric Manufacturing Plant, we strictly prepare our every medication as per the norms and guidelines of GMP and WHO. We are specialized in delivering the DCGI approved which makes us popular a Neuropsychiatry Franchise Company in Delhi. In our Neuracle Lifesciences family, we have a team of Experts which includes Quality Analysts, Supervisors, and co-workers. They all are highly experienced and well knowledgeable in their job part.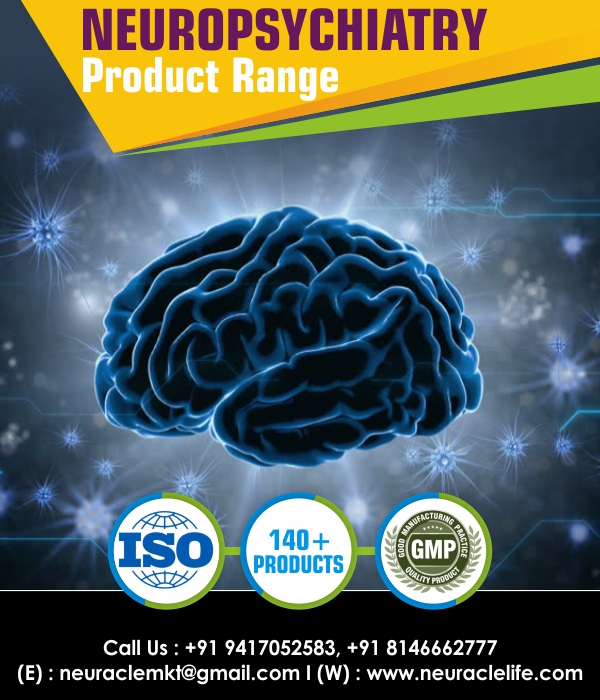 As being the leading Neuropsychiatrist Pharma Franchise Company, we provide the PCD Pharma Franchise for Neuropsychiatric Drugs Range. This field of medicine will prove as the best option to grow better in Pharma Franchise Business. So to know more regarding the Franchise Opportunities or any other queries. You can contact us at +91 9417052583, 8146662777. Even you can drop us an email at neuraclemkt@gmail.com.
Delhi – The Hub of Neuro PCD Company
Delhi proudly setup the Franchise Neuropsychiatric Company of India. It is also one of the major industrial hubs of the country. Increased commercial and industrial activity in this city is responsible in a big way for the economic and industrial growth of India.
Due to the growing job market, Delhi has witnessed immigration from all parts of the country. Consequently, sectors like retail, construction, real estate, and telecommunications are also growing rapidly.

At present, the most profitable sectors in Delhi is Neuropsychiatric PCD Pharma Franchise. The Pharma manufacturing sector in Delhi has grown vastly in recent years.

The last two decades have seen the setting up of many Psychiatry PCD Companies of Neuropsychiatric medicines in and around Delhi.
We fill Life in Life-Giving Neuropsychiatric Medications
Neuracle Lifesciences trusts that Mental Illness or Mental Disorder is a mind-boggling, dynamic disease that requires a multi-disciplinary methodology. We have confidence in building coordinated efforts to pick up the mastery and experience important to cover the broadness and profundity of the complex challenge that is Neuropsychiatric Disorders.
Here with our driving organizations and agents to guarantee that our items are tried in the best settings, and in the mix with most astounding potential regimens, to boost the advantage to patients and advance the aggregate comprehension of mental treatment.

Our focus is to connect all individuals from the disease treatment group from thought-driving doctors to the patient support associations. We will likely guarantee that unmistakable, finish, and adjusted data about our items is proactively imparted and promptly accessible.

We work to help the uncommon devotion of the therapeutic groups that speak to the cutting edges in the war on neurological disorders.
Become Partner of Leading PCD Pharma Franchise in Delhi
Our company is counted amongst the top Neuropsychiatry Franchise Company in Delhi India. The best part about our company is, we deliver the maximum transparency in our every work so that our customers can inspect anytime. We never let our customers go down in terms of quality.
Additionally, we give the best possible work to our customers so they can work with their total devotion which makes is the top Pharma Franchise Company in India for Neuropsychiatric Medicine Range. When you will connect with our organization, you would get the accompanying advantages:
Promotional Benefits– We gives you an effective promotional benefit through which you can secure a place in the market. The competition among the pharma franchise business is quite high. People arefacing massive competition in the market but with the help of Promotional benefits, they would get the relaxation from it.

Marketing Support- There is a huge difference between marketing support and promotional support. Our company also provides you the good marketing support through which you can easily get leads in your business.

On-time delivery- We are linked with the best distribution channels in our company, who helps us to make the on-time delivery of products. Our logistics networks are further connected with lots of small pharma distributors, who help us to deliver our products in every states and area of India.
Neuracle Lifesciences Manufacturing Plant in New Delhi
From the beginning, we have been concentrating on working up a complex framework that ends up conceivable with the assistance of our R&D division, which continually presents numerous recently created machines and procedures in our organization. So as for the better manufacturing of Neuropsychiatric medicine at the most reasonable price range in Delhi. Therefore only today many people are associated with us. So here is a portion of the features of our framework:
Give assurance to deliver the maximum quality.
Regularly update with latest machines and equipment.
Drive the quality approved and assurance of drug medicine.
well-supervised by the leading professionals and the team of experts.
Contact Us
Name- Neuracle Lifesciences
Address- SCF-406, Second Floor, Motor Market Manimajra, Chandigarh
Phone- +91 9417052583, 8146662777
Email- neuraclemkt@gmail.com