Neuropsychiatry Pharma Franchise in Uttar Pradesh– Neuracle Lifesciences is the top leading Pharma Company selling a neuropsychiatric range of products which are recommended country-wide by the physicians as well as by the patients. Our Company is a quality-oriented Company, thus our main focus is to adopt measures which will improve the quality of our products and will make our products more and more effective. With our Neuropsychiatry Pharma Franchise in Uttar Pradesh, we plan to make these high-quality products available in the market at consumer-friendly prices so that everyone in need can afford them and live a healthy and prosperous life.
Neuracle Lifesciences is an ISO certified Company and has come up with a Neuropsychiatry range of products for diseases such as Schizophrenia, Depression, Bipolar Disorder, 0bsessive Compulsive Disorder, Anxiety Disorder, Psychotic Disorders, G.l. Disorders, Painkillers, etc. Strict quality measures are taken from our side in our in-built Quality Analysing Unit which are to be passed by every product. Our products are our representatives in the market. It is because of them that we have achieved such name and fame. Therefore, our Neuropsychiatry Pharma Franchise in Uttar Pradesh completely dedicated to assuring the supreme quality of the products.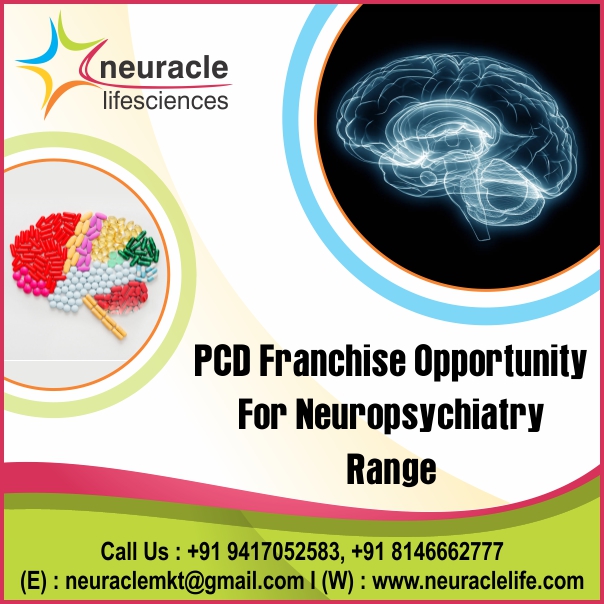 Our Products as Indicative if our Quality
There are huge varieties of products that are available in our Company. This is one of the reasons why we have become the number one choice of the people and they trust us with their lives. Our products are divided into various categories. Those categories are as follows:
Anti Depressants
Anti Epileptic
Anti Psychotics
Anti-Addiction
Antispasmodic
Anxiolytics Medicines
Psychiatric
Psychiatry
Our products are made under the supervision of professionals and using eco-friendly raw materials. These products are effective and are manufactured with the idea to improve the health conditions of our country.
Why Invest in Pharma Business in Uttar Pradesh?
Uttar Pradesh is India's most populous state having more than 200 million people residing in this state therefore increasing. With this huge amount of population, the demand a well as the availability of manpower increases. The state is bordered by Rajasthan to the west, Haryana, Himachal Pradesh, and Delhi to the northwest, Uttarakhand and Nepal to the north, Bihar to the east, Madhya Pradesh to the south, and touches the states of Jharkhand and Chhattisgarh to the southeast. Therefore, it has a huge market for the sales of our medicines. This state also has numerous healthcare centers like hospitals, clinics, chemists, etc. who require our products and we are always available for their help. We are willing to provide our services in the following cities like:
Lucknow
Kanpur
Prayagraj
Agra
Meerut
Bareilly
Jhansi
Aligarh
Ghaziabad
Noida
Mathura
Muzzafarnagar
Ayodhya
Vrindavan
Fatehpur Sikri
Mirzapur
Ghaziabad
Sitapur
All these places have a sufficient amount of manpower and availability of resources that will be beneficial for the establishment and success of our Company. Interested people can contact us to know more about our Pharma Franchise Company offering Neuropsychiatry Products.
Factors Responsible for Our Success
Our Pharma Company believes in providing you the best of everything by giving you our best services. And because of these services we are known as the leading pharmaceutical company.
We have a team of professional who supervises all the tasks that goes in the company.
We appoint only experienced and skilled staff.
Our machines that are used to carry out the process of manufacturing a variety of products are the latest ones.
No compromise is made with quality. A proper quality check is done by the laboratories in the company itself.
All the hygienic conditions are maintained.
R&D department works 24*7 for the invention of new products that are going to be beneficial not only for the company but also for mankind.
Attractive packaging and shelf-life are under the Warehouse and Packaging Unit.
On-time delivery is assured by our company.
Pre-eminity OF Our Neuropsychiatry Pharma Franchise Company
There is a reason why our Pharma Company surpasses all the other Pharma companies. Every day, we are coming to a step closer towards its dream to provide healthcare all around PAN India and to conquer the pharma world. There are a few reasons which help us to achieve great heights of success. Those reasons are:
Our manufacturing to warehouse and packaging units are certified by WHO and GMP.
We have our Business ethical policies and in no case, these policies get compromised.
Good hygienic conditions are maintained.
Products made by our company are cost-effective and consumer-friendly.
Special attention is advertence towards the quality of the product and the product gets tested in our home-built laboratories by professionals.
Our knowledge and experience have helped us to realize the need of the people and the pharma market over time. Hence, we work hard to prove ourselves as the best every day and work for the discovery of one new Neuropsychiatry products.
Contact Us
Name- Neuracle Lifesciences
Address- SCF-406, Second Floor, Motor Market Manimajra, Chandigarh
Phone- +91 9417052583, 8146662777
Email- neuraclemkt@gmail.com