Neuropsychiatry Franchise Company in Bihar- Now grow your pharma franchise in neuro segment with the Neuracle Lifesciences. We are the most popular manufacturer and supplier for Neuropsychiatry Medicine range in all the districts of Bihar. There is a heavy demand for Neuropsychiatry drugs in the market of India, therefore, we Neuracle Lifesciences the leading Neuropsychiatry Franchise Company in Bihar has taken initiative to complete the demand for Neuro medicine in Bihar India.
Here in Bihar, we have a vast PCD Neuro Psychiatric division for the manufacturing of flawless Neuro medicine range for the patients suffering from mental illness or mental disorder disease. We, Neuracle Lifesciences are on the mission to become the best Neuro Psychiatric Product in Franchise Medicine Company in India. Therefore for that, we hired the most experienced and talented medical professional experts for our Neuropsychiatry Franchise Company in Bihar.
We are providing the opportunity of PCD Pharma Franchise for Neuro Medicine Range in Bihar and in other states of India. As we are the leading Neuropsychiatry Franchise Company in Bihar, so we found the path to deliver our best quality Neuro medicine to every district of Bihar and India for the better welling of the patients suffering from mental illness and chronic mental disorder disease. With this way, we are able to terminate the mental illness from India and even some able to establish his own pharma franchise business.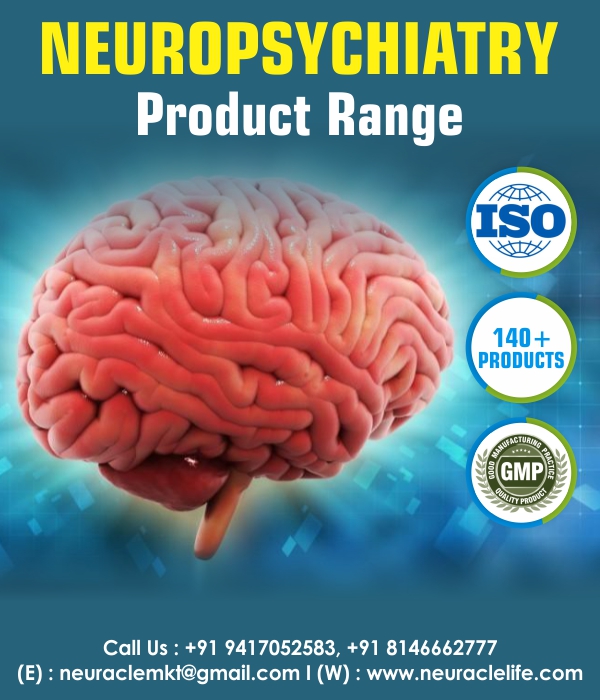 There is a great scope in the field of pharma franchise for neuropsychiatry medicine range along with major benefits. So to know more regarding the neuropsychiatry pharma franchise opportunity you can contact us at +91 9417052583, 8146662777 or write us an email at neuraclemkt@gmail.com. We Neuracle Lifesciences are happy to assist you.
We Enhance Brain with Best Neuropsychiatry Drugs
Neuracle Lifesciences The neuropsychiatry Pharma Franchise Company based in Chandigarh offers genuine franchise disadvantages. Our company is known for its range of quality neuropsychiatric medicines and products. The range is FDA-certified and DCGI-approved. We've made sure you get the best in every district of Bihar at the most affordable rates.
All these drugs are processed in GMP and WHO units.
Various medical organizations such as FDA, FSSAI etc. certify our products.
The best quality and 100% pure nature of the raw materials, ingredients, and derivatives.
Our company, Neuracle Lifesciences is known for producing the best quality medicines for neuropsychiatry.
The units here at Neuropsychiatry Franchise Company in Bihar are set in zones without excise duty. They are linked to different areas of warehousing systems.
Our company has some of India's best and most qualified research and development team. They helped us to obtain a large list of quality medicines for the neuropsychiatry range.
A Wide Neuropsychiatry Medicine Range for Bihar
Our company, Neuracle Lifesciences is providing the best quality range of Neuropsychiatry medicine for Pharma Franchise in Bihar. Get the best and best range of medicines and products for neuropsychiatry in India. Someone who is looking forward to his career in the field of Pharma franchise for Neuropsychiatry Medicine range in any district of Bihar India can take advantage of the deal. Our company is providing the best franchise opportunity along with many rewards and benefits in Muzaffarpur, Nalanda, Nawada, Patna, Purnia, Rohtas, Saharsa, Samastipur, Sheohar, Sheikhpura and in other major districts of Bihar.
We count in the best psychiatry PCD companies for a franchise opportunity in Bihar because of our flawless quality and the wide range of Neuro medicine range.
Anxiolytics: This category of medicine is helpful in treating anxiety disorders.
Mood Stabilizers: It helps in controlling bipolar disorder and schizoaffective disorder.
Depressants: Anti-depressants or depressants are useful in hypnotics, sedatives, and anesthetics.
Stimulants: Stimulants is useful in treating mental disorders such as attention deficit hyperactivity disorder and narcolepsy.
Antipsychotics: Antipsychotics are quite useful in treating psychotic disorders such as schizophrenia and psychotic symptoms in other disorders such as mood disorders.
Antidepressants: This category of medicine is useful in treating different disorders such as clinical depression, dysthymia, disorders of anxiety, eating disorders and borderline personality disorder.
We build Bihar with Pharma Franchise Opportunity
The PCD Pharma Franchise company has a number of advantages and offers Pharma Franchise partners in Gopalganj, Jamui, Jehanabad, Khagaria, Kishanganj, Kaimur, Katihar, Lakhisarai, Madhubani, Munger, Madhepura, a good growth range. Below are some of the things that make PCD Pharma Franchise the best business option that makes you the best Neuro PCD company in Bihar:
Our company gives you the opportunity to work in your own city in Bihar.
The risk associated with the PCD Pharma Franchise in Bihar is low because the investment is also low.
PCD Pharma Franchise allows you to be your own boss and you don't have to work under any pressure.
Monopoly Neuro Medicine PCD Pharma Franchise in Bihar
We, Neuracle Lifesciences is providing the best opportunity in all the districts of Bihar for PCD Pharma Franchise for Neuropsychiatry Medicine Range. We believe in equality, therefore, we are providing the monopoly-based franchise opportunities in Araria, Arwal, Aurangabad, Banka, Begusarai, Bhagalpur, Bhojpur, Buxar, Darbhanga, East Champaran, Gaya, and other all districts of Bihar.
Contact Us
Name- Neuracle Lifesciences
Address- SCF-406, Second Floor, Motor Market Manimajra, Chandigarh
Phone- +91 9417052583, 8146662777
Email- neuraclemkt@gmail.com